Tuesday morning I took a bus to Macciano and rented a scooter for a couple days! I left the car rental place with a huge grin of freedom on my face :) I got to see a lot of places I would never have seen by bus, and the whole day was just awesome. Except it rained SUPER hard all morning, so I got nice and wet. But the sun came out around noon and I took off into the unknown countryside. It was gorgeous, to put things lightly.
My first stop was in Pienza. Pienza was basically rockin.
I wonder if someone put this here so people would take pictures of it
I thought this little girl was so cute sitting here drawing
I liked this road because the name of my house is "La Buca". I named it that. hehe.
After Pienza I took this little crazy road toward Montecchielo, and there were cows. Lots of cows.
This doesn't even begin to describe the beauty of the Val D'Orcia...
Montecchiello... aaahhh... so great! It's teenie, so the pics I got pretty much sum up the whole town :)
Montecchiello was so calm and peaceful. No annoying tourests, no gross gelato, no fake handmade shops. Just locals hanging out in the streets enjoying the sun!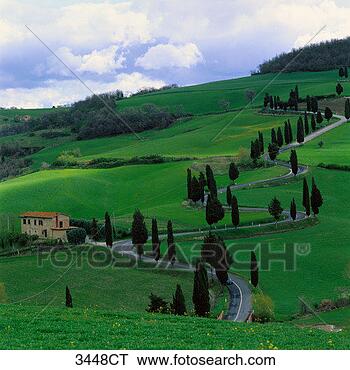 All day I was trying to find this road so I could take a picture of it, then as I was driving home up a ridiculously steep road I realized I was on it! I was too lazy to go back down and take my own pic, so you'll just have to pretend I didn't download this one :)
This was the road back to Montepulciano through the woods. This picture is un-edited. It was breath taking! The woods were so gorgeous, and the road just wound through them so pretty...
I got back home around 6ish and called my fam. Babo told me I should visit the isle of Elba while I'm here, and after much research and deep searching, I think I figured out how to make it work! (And thanks to Babo for his research as well:)) I was going to head out this morning, but I decided I want to be there for 2 nights so I had to change hotels and blah blah blah, so I'm going Monday now! WAHOOO!! I never thought I'd be able to go to the sea while staying here, so I'm stoked outta mah mahnd.